Learn this crazy simple but totally unique way to process your lived experience
Join me, Jen Beman, the creator of BioGraffs, as I team up with somatic therapist Mary Cordelia Myers for a hands-on training to empower you to use this amazing tool.
It's an experiential and creative way to explore your inner landscape.
Register here
I am psyched to invite you to this unique online workshop to experience clarity on something that's been bugging you.
I've known Mary for years. She's a somatic therapist and does these amazing programs for bringing joy into your life, called "Blissipline." Mary is all about empowering people to embrace more joy in their lives.
I told her about BioGraffs, and she loved it! 
She said about BioGraffs, "I experienced it as just profoundly clarifying as I worked on it moment by moment by moment. It's fun and easy, and that's huge because it is very difficult to do introspective work on your own. A lot of tools just aren't really that user-friendly. This is a seriously user-friendly tool. It's sort of a gateway drug for introspection."
Mary immediately knew she wanted to get this into the hands of her clients, students, and friends, so they could experience the benefit too.
To understand how effective it is, you have to try it, because it's so ridiculously simple (and fun) to use, it's easy to underestimate just how powerful it is. 
And since it can be hard to get started on something new, Mary asked me if I would be willing to guide her community in a hands-on workshop. 
I was psyched! It's definitely something that's been on my radar to do more workshops, and this is a perfect opportunity to team up with my amazing therapist friend, Mary Cordelia.
So, thanks to Mary, you are invited for this exclusive opportunity to join us in a personal introduction to what she calls, "one of the best power-tools for clarity I have ever come across."
BioGraffs workshop
with Creator, Jen Beman and
Somatic Therapist, Mary Cordelia Myers
Saturday, November 18th
2-4 pm Eastern time
Online on Zoom
You've heard me talk about BioGraffs.
Here's how Mary sees it.
"BioGraffs is the most intuitive, easy, natural way I HAVE EVER COME ACROSS to work through a thorny issue.
"We all have things that challenge us.  That's just life.  But sometimes these issues get really complicated.  They have a lot of moving parts and connected people and topics.  When we try and think about them, so many other thoughts come up we just spin in circles.
"BioGraffs creates a really simple and delightful way to clarify your thinking.  I've literally never seen anything like it.  After taking an issue to a BioGraffs session, I always feel so much clearer and open to new ideas.
"And it's something you can do on your own, at home, any time!
"Of course it's often really helpful to explore challenging things with others, so it's also a tool you can use with people you love.  
"So that's why we are going to do it together."
So, what are Biograffs?
It's a really cool method that uses little colored objects to help you think through a problem, or a question, or anything you're exploring. There's physical kits which are the best way to experience it, but there's also an online virtual version.
You just follow a few simple directions, and suddenly this issue that has felt challenging, or confusing, or even impenetrable, suddenly starts to become clearer somehow.
I know that sounds ridiculously simple, but here's the thing...
IT REALLY DOES WORK LIKE THAT.
But don't take my word for it!  Come to our workshop, and experience it for yourself.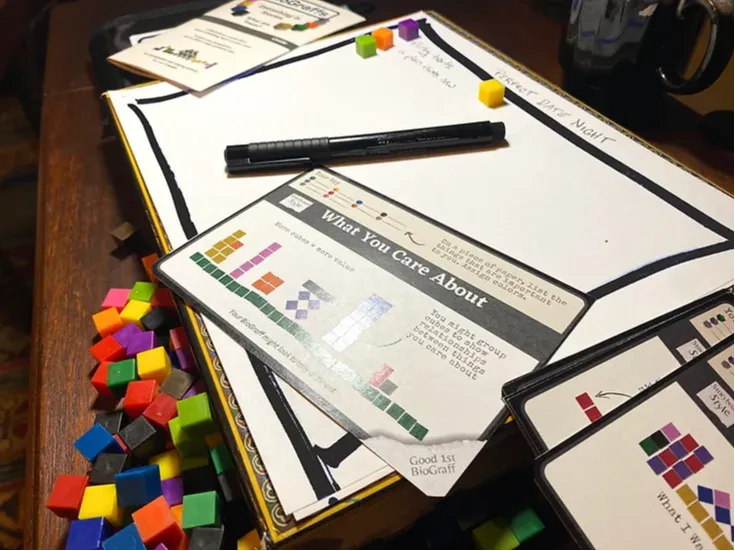 Mary's motto is, "You gotta Rock it to Grok it!"
Which means, you only really get the benefit of something when you experience it yourself. So this is your opportunity to try the BioGraffs method and see for yourself how clarifying it can be.
In this workshop, we are actually going to DO BioGraffs together. You'll learn what kind of issues you can bring to BioGraffs (anything and everything!), how to use the tools to re-process your inner stories into an external creative design, and then give you tools to share what you've made to help others understand you better.
You'll get to do your own BioGraffs with the online tool, on any topic that is important to you.  You'll immediately see the potential of using this tool in your life to gain clarity and self-awareness, reframe personal issues, and connect with others for greater understanding. 
We'll see how BioGraffs becomes a gateway to storytelling – we'll ask for volunteers who want to share their creation. We'll all see how the BioGraffs method creates a unique visual that anchors your story, keeps you and your listener engaged and on-point. You say what meant to, and people SEE what you mean.
We can't wait to see you in the workshop!
            ~ Jen Beman and Mary Cordelia
Join us!
Because YOU totally deserve to feel the freedom and clarity that comes from using Biograffs!
Click here to register